EATON Eaton XTCEC16R22
Series Contactors
Ie [A]
HP
Auxiliary Contacts
AC-3
AC-1
@ 230
@ 460
Normally Open
Normally Closed
1600
2200
-
-
2
2

Eaton XTCEC16R22 Ordering Information
Part Name
Rated
Operational
Current
le
A
AC - 3
Max. rating for three
phase motors, 50 60 Hz
UL / CSA Hp
Aux Contacts
230 V
460 V
NO
NC

XTCEC16N22Y


(RAC110)
2000
-
-
2
2

XTCEC16N22A


(RAC250)
2000
-
-
2
2

XTCEC16N22C


(RAC500)
2000
-
-
2
2

XTCEC16N22TD


(RDC48)
2000
-
-
2
2
Eaton XTCEC16R22 Dimensions
Eaton XTCEC16R22 Contact Sequence
Side Mounting Auxiliary Contacts
| | | | |
| --- | --- | --- | --- |
| Part # | Amps | Normally Open Aux | Normally Closed Aux |
| DILM1000-XHI11-SI | 10 | 1 | 1 |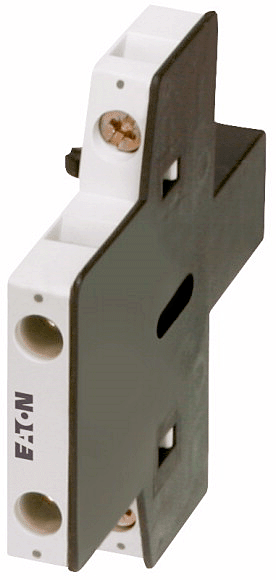 Includes: Qty 1 - XTCEXSBN11 (Auxiliary Contact)
Use the links below to navigate to the parts pages.

1.
XTCEXSBN11

Aux Contact - Mount Either side inside (against) contactor

This is what you receive with the purchase of the XTCE185L22.

2.
XTCEXSCN11

Aux Contact - Mount piggyback to
XTCEXSBN11

You can easily upgrade your contactor to 4 open and 4 closed contacts by purchasing these additional auxiliary contacts.
Let our expert sales staff guide you through finding the right products to fit your needs. CALL 866-595-9616.
© 2016 KMParts.com, Inc. All rights reserved.