Eaton/Moeller
AT0-01-1-ZB
Safety Interlock Switch
Contacts

Contact Sequence

Positive opening clearance to
IEC/EN 60 947-5-1

Normally
Open
Normally
Closed
-
1
AT0-..ZB Instruction Sheet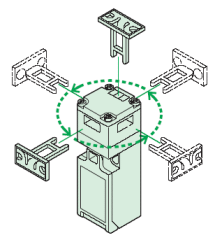 AT0-01-1-ZB Actuators can be repositioned to adapt to horizontal or vertical installation. The operating heads can be turned in 90 ° stages to match the specified plane of actuation. For degree of protection IP 65, use cable gland M20 with a maximum connection thread length of 9.5mm (V-M20).
Note:
Care should be taken during mounting and operation that no foreign particles penetrate the entry point of the actuator element.
Let our expert sales staff guide you through finding the right products to fit your needs. CALL 866-595-9616.
© 2016 KMParts.com, Inc. All rights reserved.