Moeller DILET70-A
is now
Eaton XTMT6A60H11B
Electronic Timer Module
SAME EXACT PART- ONLY PART # CHANGE
Multi-Function Electronic Timing Relay 10 Timing Ranges;
Suitable to Potentiometer M22-R10K Operating Voltage 24-240 Volts AC or DC
EC Rated operational current
l at AC-15
220V, 230V, 240V
UL/CSA Pilot
Duty Rating
Time Range
3
B 300
0.05 - 60 hour




DILET70-A

Time Adjust Dial (Large Red Dial) 0 to 10 Equals proportional to selected range total.
( ie: .15..3m range 10 on dial equals 3 minutes )
DILET70-A Dimensions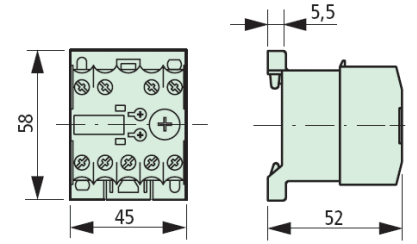 DILET70-A Functions


1 Instantaneous Contact, 1 Timed Contact A2/X1 not jumped together


With Y1 and Y2 either connected together or at the same potential through an external contact.
Let our expert sales staff guide you through finding the right products to fit your needs. CALL 866-595-9616.
© 2016 KMParts.com, Inc. All rights reserved.