Moeller MV4
Operator Control Unit Overview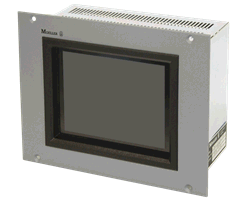 The new Moeller operator control unit range provides the right machine interface for any application. From a simple control panel with a two-line text display to the 10.4" graphics-capable color touch panel, everything is covered – finely tuned for performance and convenience.
The interaction between Moeller automation devices and the display and operator units of the MI4/MV4 series is based on the "Suconet K fieldbus connection always on-board" principle.
In the field of automation, PS4 and PS416 programmable controllers and MI4/MV4 machine interfaces complement each other to provide a powerful team for machine control and management.
MV4 Options
Software
The Windows-based configuration software ensures that the new operator control units are easy to use. All MI4/MV4 units are configured with software requiring no programming language knowledge – from touch-panels to text displays with a control panel. Once designed, the software project can be incorporated into other MI units at any time.
Moeller MV4 Infrared Touch Screen HMI
| | |
| --- | --- |
| MV4-150-TA1 | 5.7", mono, RS232, 1 x comms card slot, 24Vdc |
| MV4-450-TA1 | 5.7", color, RS232, 1 x comms card slot, 24Vdc |
| MV4-170-TA1 | 10.4", mono, RS232, 1 x comms card slot, 24Vdc |
| MV4-470-TA1 | 10.4", color, RS232, 1 x comms card slot, 24Vdc |
| MV4-570-TA1 | 10.4", color, RS232, CF, 2 x comms card slots, 24Vdc |
| MV4-570-TA2 | 10.4", color , RS232, CF, 2 x comms card slots, 100..240Vac |
| MV4-670-TA1 | 10.4", color , RS232, CF, ethernet, 1 x comms card slot, 24Vdc |
| MV4-670-TA2 | 10.4", color , RS232, CF, ethernet, 1 x comms card slot, 100..240Vac |
| MV4-690-TA1 | 15", color , RS232, CF, ethernet, 1 x comms card slot, 24Vdc |
| MV4-690-TA2 | 15", color, RS232 CF, ethernet, 1 x comms card slot, 100..240Vac |
Moeller MV4 Infrared Touch Screen HMI Accessories
| | |
| --- | --- |
| ZB4-908-SC1 | Compact flash memory card 8 Mb |
| ZB4-916-SC1 | Compact flash memory card 16 Mb |
| ZB4-932-SC1 | Compact flash memory card 32 Mb |
| ZB4-601-IF1 | Communications card multi-protocol |
| ZB4-609-IF1 | Communications card multi-protocol with Siemens MPI |
| ZB4-604-IF1 | Communications card Profibus-DP |
| ZB4-606-IF1 | Communications card DeviceNet |
Moeller MV4 Infrared Touch Screen HMI Programming
| | |
| --- | --- |
| MV4-CFG-1 | MV4 programming software, Galileo V4.xx |
| ZB4-244-PK1 | Configuration cable, RS232, 9 pin serial PC |